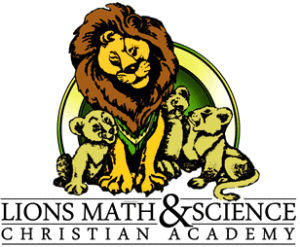 Lions Mathematics and Science Christian Academy is a comprehensive preschool and elementary school program that focuses on math, science and the character development of young children.  The goal of the Lions Academy program is to promote higher order learning in young children as they transition from intuition and concrete operations to abstractions and symbol processing.  This is accomplished through a math, science, and technology rich curriculum designed to address the different backgrounds, learning styles and developmental needs of students participating in the program.  The Lions Academy program is modeled after Brain Learning theory and incorporates the Illinois Learning Standards and National Benchmarks for math and science.
The mission of Lions Academy is to provide a child-centered, developmentally appropriate curriculum and learning environment that is rich in math, science and technology where young children can grow to their full potential, cognitively, physically, socially, affectively, creatively, and spiritually.
The Vision of Lions Academy is to become the premier academy of math and science on the north shore.  The intent therefore, is to graduate young children of good character with:  a high standard of excellence, strong sense of self, the ability to think critically, a commitment to a life long acquisition of knowledge, and diligent stewardship of the community and environment.
The Lions Math and Science Christian Academy program offers a comprehensive pre-K through sixth grade program curriculum for students of all ability levels.  Located in Waukegan Illinois, Lions' Academy is open to all children of the north shore. No child will, on the basis of sex, religion, race, color, national or ethic origin, or handicap, be excluded from participation, be denied the benefits of, or be subject to discrimination under any Lions Academy program or activity.
The Lions Academy program is designed to change the delivery of science and math instruction in the preschool and elementary classrooms by offering more time on task in science and math through integration in all core areas of the curriculum.  Student learning is expected to become more meaningful as teachers deliver expository reading and writing as a means to acquire knowledge in the content areas of math and science.  Reading and writing, an integral part of the problem solving applications, represent a primary vehicle for abstracting ideas, patterns, and relationships and communicating newly acquired thoughts and learning in science and mathematics between peers and mentors.